About Nicholas
Nicholas Baetge is a PhD student in the IGPMS program. He is from Palos Verdes Estates, CA and received his BSc in aquatic biology from UCSB.
Why UCSB
Not a day goes by where I forget how lucky I am to live in such a mellow, idyllic, and stimulating place--Santa Barbara is a quality learning and living environment. Because of its proximity to the ocean, the diversity of its affiliated departments, and the supportive and collaborative nature of its people, UCSB's IGPMS program provides a great training ground to pursue marine science at a high level.
Thinking about microbes keeps me from forgetting about the small things, whether that's scientifically, philosophically, politically, or personally. They are my constant reminder that it's sometimes the smallest actions of the smallest beings that make the biggest difference.

Nicholas Baetge, Ph.D. Candidate
Ecology, Evolution, and Marine Biology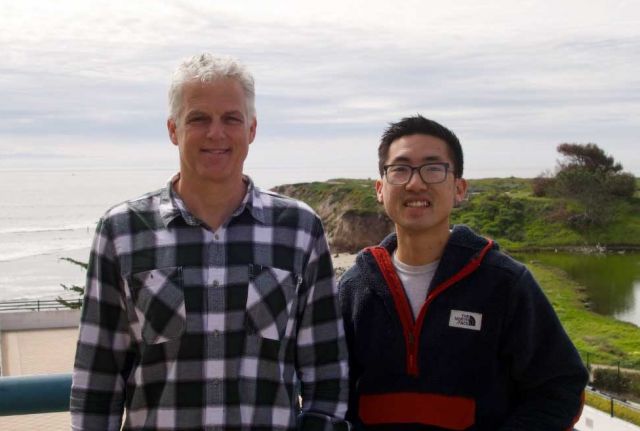 Research
My research is concerned with the role that marine bacterioplankton play in cycling the elements through their consumption of dissolved organic matter (DOM). The ocean is teeming with microbes, with over a million cells in every millimeter of water. Not only do they outnumber all life in the oceans, they are also very active, governing the circulation of elements and the survival of organisms higher in the food chain. Though bacterioplankton are unicellular and have relatively simple cellular structures, it is difficult to attain a mechanistic understanding of how they shape DOM biogeochemistry because they are incredibly diverse and are capable of a wide range of metabolisms.
By blending traditional and contemporary molecular techniques in our microbial experiments, we work to break down how different microbial communities utilize and transform a variety of DOM substrates. This allows us to interpret our observations of DOM distribution in the oceans and gain insight on the processes that dictate the importance of DOM in marine carbon cycling.
How and Why Did You Get Into Your Area of Research
As an undergraduate at UCSB, I fell in love with microbiology. The more I learned about the impact microbes have on our planet's climate and human health, the more I craved to know how they work and how they change under different conditions. After participating on a research cruise in Bermuda, I became hooked on oceanography and studying marine microbes. The open ocean has become a playground that I am always yearning to revisit and explore with new tools and approaches.
What Do You Find Rewarding About Your Research
I find my work to be humbling, rapidly evolving, and never boring! The oceans are vast and ever-changing, and much of what happens in them may always remain a mystery. Nevertheless, I find it really rewarding to collect data, analyze them, and allow them to inform and potentially alter my perspectives of life in the oceans.
Related Links