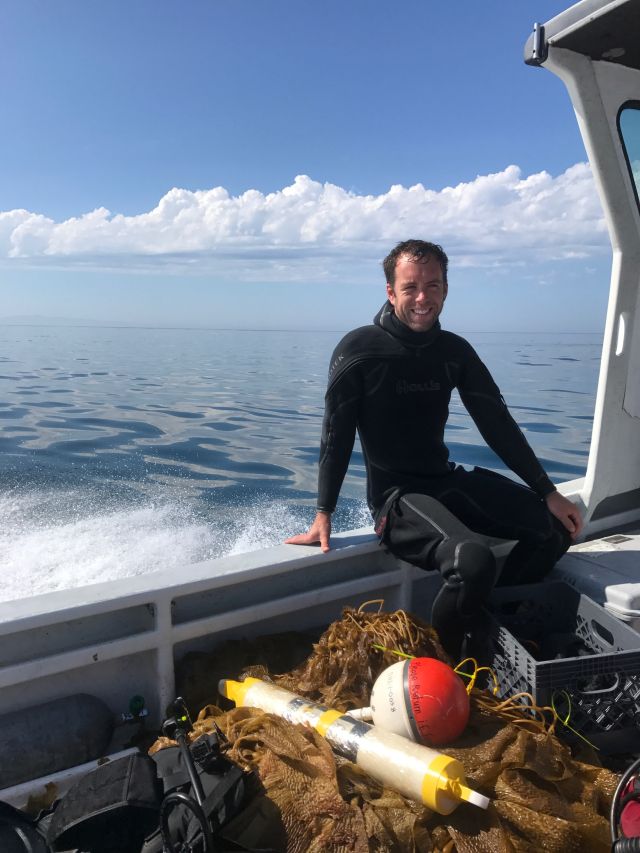 About Kyle
I grew up near the coast in New Jersey and I have always been interested in science and the environment. I received my BSc and MS from the University of Virginia Department of Environmental Science where I conducted coastal ecology research with the Virginia Coast Reserve Long Term Ecological Research Program. This led me to the Santa Barbara Coastal (SBC) LTER, which is based at UCSB.
Kyle's Research
My research is focused on connectivity between kelp forests and the sandy beach. I study how and where kelp lost from nearshore reefs ends up on the beach and how that kelp then contributes to the beach ecosystem. Kelp wrack (dead kelp) supports the beach food web as the primary food resource and also provides habitat while being the key resource for a number of ecosystem functions, including nutrient recycling. I found that the invertebrate community structure is largely driven by the amount of kelp wrack a beach receives and that the overall beach ecosystem is driven by kelp wrack inputs. Kelp wrack supports a variety of animals, from invertebrates up to small mammals and shorebirds, making this subsidy from the kelp forest a crucial aspect of California's beach ecosystems. 
Why did you choose UCSB and IGPMS?
I chose to study at UCSB because of the highly collaborative and interdisciplinary nature of IGPMS and the SBC LTER. UCSB also provides incomparable access to field study sites with our location right on the coast of the Santa Barbara Channel. 
How did you get interested in your area of research?
I was interested in biology from a young age and I grew up near the shore. Spending so much time in coastal environments growing up, while seeing firsthand the impacts of development and disturbance events like storms, solidified my desire to study these ecosystems and work to ensure their conservation.
What do you find especially rewarding about your research?
I find fieldwork to be especially enjoyable and rewarding. Being able to do research year-round in southern California is a big advantage and along with UCSB's proximity to the coast helps keep me really connected with these ecosystems. I also feel very supported in this program because of the collaborative nature of the research groups.